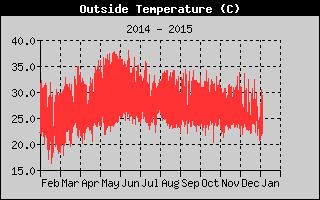 I'VE TAKEN down today the Tabang Naga graphic that used to be in the left column, to signal that normalcy has finally returned to our life, particularly in our little community in Pacol.

As my previous post showed, my internet access at home -- courtesy of Bayantel -- is back since yesterday. So no need to motor down to the city when I need to send emails at night, either from my workplace or through an internet cafe. Avenue Square is out of the question: my notebook PC has refused to boot up for more than a week now, and needs to sent to Manila for repair.

But the recent mornings had been very tough, with extraordinarily cold temperature making my motor trips to the city center and back quite miserable. Data from the city profile showed that in 2002, the lowest recorded temperature reached only 20.3° C. But the graph above -- nicked from Mike Padua's website -- shows we already surpassed last January 25 (at 18.7° C) the coldest temperature registered in February 2006.

And we've yet to enter February, which historically has been the coldest month in Naga.